Always Remember Your Name: The Children of Auschwitz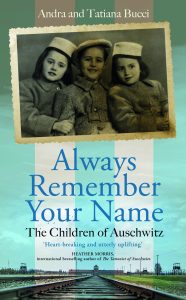 By Andra and Tatiana Bucci
Bonnier Books 2022
By rights, the sibling authors of this remarkable new book should not be alive.
They are two sisters; Andra,  82, lives in California, and her elder sister Tatiana, 84, is in Brussels.
They were two of the 230,000 children under the age of ten deported by the Nazis from occupied Europe to the death camp of Auschwitz. When the war ceased, just 70 of those children had survived, including Andra and Tatiana. An estimated 1.5 million children perished in the Holocaust.
The sisters were taken to 
Auschwitz along with their
Jewish seamstress mother,
their grandmother, their aunt
and their six-year-old cousin,
Sergio
The account of their ordeal is powerful and heartbreaking. In 1944, the girls were deported from their home town of Fiume in northern Italy and taken to Auschwitz along with their Jewish seamstress mother, their grandmother, their aunt and their six-year-old cousin, Sergio.
At Auschwitz they were separated from their mother and other family members. Some how their mother managed on five occasions to visit the 'Kinderblock' barracks where they were. Each time she would hug and kiss them, and urge them to repeat their names. "Always remember your names" she pleaded with them, so that if they survived to liberation, their true identities would be known.
After November 1944 she never visited again. They assumed she had died. The sisters were liberated by Russian soldiers on 27 January 1945, after which they were transferred to a bleak orphanage in Poland.
They discovered toys, fresh
food, soft clean beds, and a
garden filled with flowers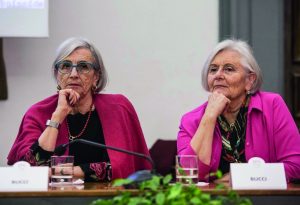 In April 1946, they were flown to England. They had been chosen by the Jewish Refugee Committee to be part of a rehabilitation scheme at Lingfield House, Surrey, owned by Sir Benjamin Drage, an English Jew. The house was being used to help hundreds of children recover their stolen childhood; here they discovered toys, fresh food, soft clean beds, and a garden filled with flowers.
The girls had been at Lingfield House for eight months when news reached them that, "Your mamma and papa are alive". "We were euphoric", recalls Tatiana.
A few weeks later, the girls, in identical blue coats, boarded a train to Dover and then journeyed on to Rome where their mother was to meet them. On arrival at Rome's station, a great crowd had gathered to greet them. "We were so overwhelmed we burst into tears", writes Tatiana. "Mamma hugged and kissed us and did her best to reassure us".
Children would see the
tattooed number on their
arm and ask if it was their
telephone number
Of the 13 relatives who had been arrested and imprisoned, just four returned; the sisters were particularly affected by the murder of their cousin Sergio.
When she tried to tell
people what had happened
in Auschwitz, she wasn't
believed
Life was difficult after their return to Italy. At school they were known as "the girls who had been in the camp", but no one asked about their past. Other children would see the number tattooed on their arm and ask if it was their telephone number.
"We said 'yes'. What else could we say?" says Andra.
Their mother found that when she tried to tell people about what had happened in Auschwitz, she wasn't believed, and so she stopped talking about it. She forbade the sisters to talk about it as well.
It was only after the death of their mamma and papa that the sisters began to confront what had happened to them. Their first journey back to Auschwitz was in 1996, and since then they have become prolific speakers on the Holocaust, telling their stories for future generations.
I have only given a glimpse of their story. But I am so glad that I have read it. You won't be disappointed if you read it, too.