Read on to find out how to get £2 off the DVD
Dragons, giants, dangerous swamps, dark foreboding castles, creepy characters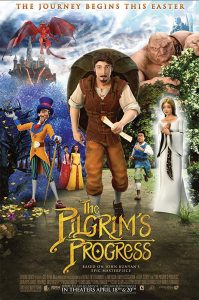 and a deep threatening river of death! No, not elements of a new Harry Potter novel but features of a 17th century classic English novel – which has been brought to life in a new animated movie.
Published in 1678 and written while in prison for "illegal preaching," John Bunyan's classic is still regarded as one of the greatest works of English literature.
The story is simple. A man named Christian is living in the City of Destruction and realises that both he and his family need to get out before it's too late.  Meeting a character called Evangelist, he sets off on a path which will eventually lead him to the Celestial City.
The journey, however is more difficult than Christian can ever imagine. His route takes him, via the cross of Jesus through Vanity Fair, down into the valley of Death and eventually to that foreboding river of death.
This new film brings Bunyan's story vividly to life with stunning animation that puts you right into the heart of the action. The film is a colourful, spectacular, wonderful retelling of the story with a terrific cast and a lovely music score by Kristyn Getty.
Thoroughly recommended for all ages.
Andy Godfrey
'The Pilgrim's Progress' has recently been released on DVD and Blu-Ray.
For a £2 discount, enter the code HEART at www.ao.vision/product/the-pilgrims-progress. This offer lasts until the end of May 2020.