says the man who's braving ridicule to walk the length of Britain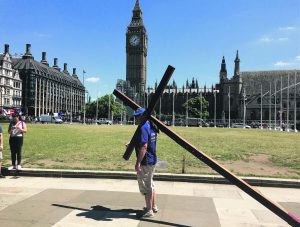 Whether on land or sea, Richard Caleb Champion is one of several men who are prepared to be laughed at for walking around carrying a heavy wooden cross.
Happily this huge cross is a lot lighter than the crossbeam Jesus had to carry, and it's on wheels, nor has he been whipped to within an inch of his life beforehand as Jesus was by the Roman soldiers' cruel 39 lashes.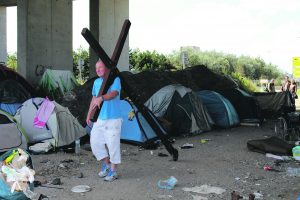 But Richard believes the cross is still the answer to all our national and personal problems. Since 2012 he's taken it to Parliament, the Calais migrant camp and now plans to tour the UK this autumn.
His mission will be printed on a new T-shirt: "Bringing hope and healing to the UK".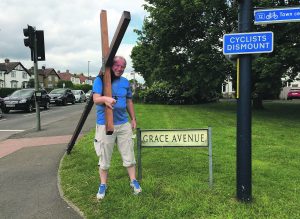 Certainly it's a tall order – but he's not alone; he'll be meeting other Christians along the way, praying on the streets for anyone who wants healing and praying for God to restore marriages. "I'm looking to God to do amazing things for people."
God has a plan for their lives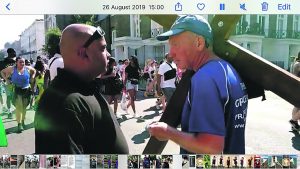 Where does this faith come from? Like other Christians, Richard had a life-changing encounter with Jesus. Now he's prepared to take risks and literally step out along what he believes is a path prepared for him, hoping to explain to everyone he meets that God has a plan for their lives.
Richard is based in Crawley, West Sussex, and, like Crawley's more famous son, Gareth Southgate, is ready to fight for his nation.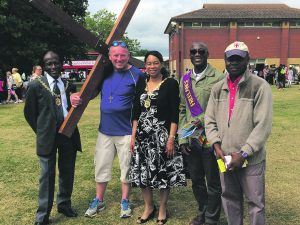 Unlike the England football manager, though, Richard doesn't expect to endure the agony of a penalty shoot-out, because Jesus endured the agony of the Cross as the penalty for his sins.
Jesus suffered and died because the Bible says: "The wages of sin is death."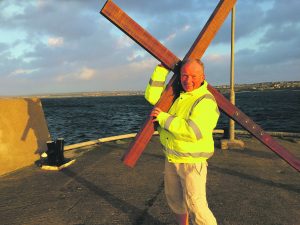 He says: "By dying and rising again, Jesus paid the price for all our sins for all eternity. So any of us can turn to God and ask for forgiveness for all the things we've done wrong and he'll be there, ready to receive us into his kingdom and welcome us to new life.
"So for me it's imperative that Jesus gets what he paid for, in terms of individuals turning to him and realising that the penalty has been paid."
What happened to turn a young man who had been bullied at school into a fearless cross-walker, a would-be 'Champion' for God?
In 1978 a break-up with his teenage girlfriend had left him devastated
Richard's life changed one night in 1978. He'd started fairly casually going to church after a break-up with a teenage girlfriend left him devastated, and had even joined the church youth group. One night a message had been given, telling them all that they were God's children.
"That clinched it for me; I went into the church, walked up the aisle, and knelt alone at the altar. It was 10.10pm on 16 July 1978 when I gave my life to Jesus."
Ever since, Richard says, the desire to "tell people about the Lord Jesus" is "immense."
"Even when I have to repossess people's cars, I tell them about Jesus"
He works in the motor industry and has had the unenviable job of  repossessing cars when finance payments had stopped. "Even when I had to repossess people's cars, I told them about Jesus. I've prayed for the manager of a Bentley showroom, for example. You can't shut me up!"
Richard also longs to see 'the great commission' become a reality; this refers to Jesus' command to his disciples to go into all the world and tell people about him and to heal the sick. On his travels he has already seen God heal people; he recalls one man's astonishment when his back pain went completely.
Richard Caleb Champion's itinerary:
Starting on 4-6 September, he plans to visit Brighton, then London, Leicester, Nottingham, Sheffield, Barnsley, Leeds, Carlisle, Sterling, Inverness and Thurso. There may be changes along the way.
If you'd like to help Richard Caleb Champion practically or in prayer, or find out more about his route and can offer hospitality, email champion777@sky.com (or send your tel no/address to the HEART office if you'd like Richard to have your details)
---
The Cross is STILL the answer!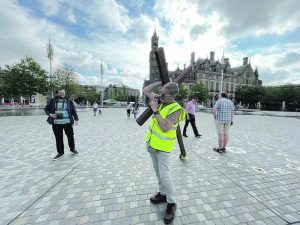 William Porter of Beacon House of Prayer, Stoke on Trent, has also been taking a cross across 51 cities throughout July, after sensing that God wanted prayer walking to happen in every city in England.
"As the pandemic was ending, I felt a burden to walk with this cross through the city centres and pray with local Christians for God's strength, blessing and glory".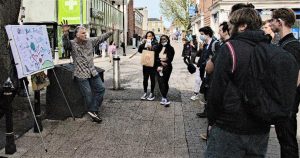 Kent-based evangelist Dave Workman runs Open Air Campaigners. He goes to local markets weekly and also Hyde Park Corner once a month (where he distributes this paper). He also holds regular, informal evangelism training via Zoom.
Dave Workman says: "The New World Order 'chaos to control' is happening fast – speeding up the eventually global cashless/contactless/cardless digital payment system of Revelation 13:18. The Lord is near!"
Through Faith Missions also invites volunteers to join their walks of faith, going from town to town and finding accommodation in local churches.