Kenya: Defending human rights lawyers and girls 'sold' as brides
A Christian human rights attorney, Willie Kimani, his client, and their cab driver were kidnapped and murdered in Kenya by four police officers.
The East Africa Center for Law and Justice (EACLJ) has taken up the case and says, "Those who tried to silence Willie Kimani must be held accountable.  Human rights defenders must be guaranteed safety."
Their lawyers are also bringing cases on behalf of young Kenyan girls from the northern Samburu region, who are 'sold' for as little as eight cows to older, powerful men and forced to undergo FGM.
The EACLJ has been able to rescue some girls, who can be as young as six, and place them in safe schools. One girl was rescued after her brother bravely defied his father and told the authorities what was about to happen.
Although this practice violates international law and Kenya's constitution, local chiefs and communities continue this barbaric abuse with virtual impunity.
India: rise of Hindu extremism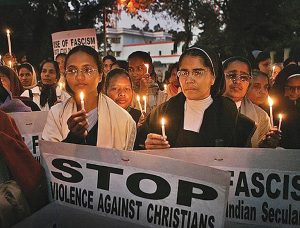 The Daily Express has run a series of stories highlighting the plight of persecuted Christians.
In a recent incident Hindu extremists demanded that Christians attend a specially convened village meeting; when the Christians refused to convert at this meeting, they were beaten and forced to flee. They returned to the village after assurances from the authorities, but villagers drove them away again. Charities later provided medical aid, clothes, food and a safe haven.
Persecution of Christians in India has increased by 34% since 2013. A Delhi reporter said on 29 June: "Delhi Christians are living in fear. Hindu extremists forbid them to worship, boycott them economically, and threaten to kill them. Police fine them if they worship publicly."
Lebanon: suicide bombers attack Christian village
Eight suicide bombers attacked a Lebanese Christian village in the latest violent spillover of the Syrian war into Lebanon.
Security sources believe ISIS was responsible for the bombings in Qaa village, on Lebanon's border with Syria.
The first wave of attacks involved four suicide bombers at 4am, killing five civilians. A bomber blew himself up after being confronted by a resident, then the other three detonated their bombs as people arrived at the scene.
A second series of attacks, involving four bombers, took place in the evening as residents were preparing the funerals of those killed earlier. Two blew themselves up outside a church.
DR Congo: Nine Christians hacked to death
Five men and four women were killed in attacks on three villages in the eastern part of the Democratic Republic of Congo (DRC) on 5 July.
Christian campaigning charity Barnabas Fund reports that uniformed men armed with guns and machetes raided homes and stole animals in Christian communities near the town of Oicha.
The murders took place less than two miles from a United Nations base. Local sources laid the blame on an Islamist militant group, the Allied Democratic Forces (ADF). Just  two months previously, over 30 Christians were murdered by the ADF in a similar assault a few miles north of Oicha, after which thousands of people fled.