THE CALL TO REBUILD OUR NATION
In the face of this year's 'huge' challenges, Christian leaders are mobilising prayer to bring God back into our national life
AFTER THE SUCCESS of the autumn National Day of Prayer, veteran evangelist David Hathaway has announced another for the spring.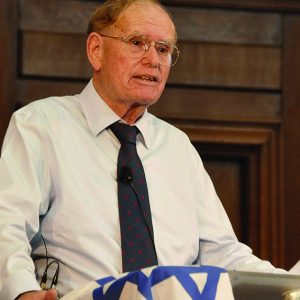 It is hoped that nearly 2,000 people will again pack the central London venue while groups up and down the country will be inspired to pray simultaneously.
Writing in this paper, David Hathaway warns that Britain is drifting away from God's standards laid down in Scripture and that the nation is "reeling under a complete breakdown of Christian morals in every part of national life."
Attack
He writes: "Our best form of defence is attack, not passive acceptance in the belief that we are a minority and must adapt ourselves and our Bible to accommodate 'changing society'."
Another prayer initiative to declare the whole Bible outside Parliament throughout 2018 is catching on with churches and groups. A young Anglican vicar is encouraging people both to declare Scripture and pray for our government on a daily basis throughout the year. Rev Pat Allerton, newly arrived at St Peter's Notting Hill, has launched Truth to Power, a website where people sign up to pray in Parliament Square.
Battle
Rev Allerton told the Church Times, "Probably most of what it achieves will be stuff that we don't see. That is the spiritual reality of the world we live in: our battle is not against flesh and blood. I'm excited about it being a visible sign and statement of faith in a nation that is increasingly drifting away from its Christian heritage and moorings."
Many churches began 2018 with three weeks of fasting and prayer, while a specific women's prayer project was set up in Canterbury by a Ghanaian woman, a missionary to this country, who launched 36 days of prayer and fasting from 1 January.