Murder outside church points to fresh hope for London community
By Charles Gardner
 LONDON, June 11, 2019
A fatal stabbing took place just outside a north London church only days before I spoke there about Pentecost.
The young man's family had left a floral tribute beside the pavement and were being comforted by passers-by as we came out of church. Baris Kucuk had been taken to hospital after an attack in the early hours of June 1st, but had simply lost too much blood. A man has been charged with his murder.
The harrowing scene was nevertheless a stark reminder of the suffering Jesus went through in order to bring us life. And our prayer was that life and peace would emerge from the ashes of this terrible tragedy, the latest in a string of such incidents across the capital where knife crime has reached epidemic proportions.
Political activists were quick to blame cuts to policing, but this is a shallow analysis of the situation. We are living in times of violence compared to the days of Noah, which Jesus indicated would be a sign of coming judgment and of his imminent return (Luke 17.26-30).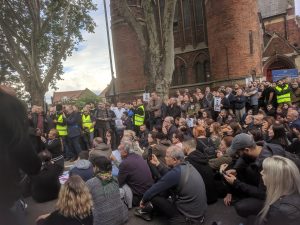 There are all kinds of reasons for the murderous mayhem we are witnessing, but chief among them is a turning away from God's laws, which successive governments have encouraged.
Is it surprising that knives are freely used on the streets when doctors and nurses, charged with our care, are engaged in the legal butchering of unborn babies every single day! We are reaping what we have sown. We have also too often allowed the guilty to go free, with murderers serving ridiculously short sentences before returning to our communities to wreak further havoc.
This latest outrage occurred just a ten-minute walk from the former Haringey Stadium1 which, in 1954, witnessed the only significant post-war turnaround in the fortunes of the UK church. Tens of thousands had their lives transformed by the message of American evangelist Billy Graham including a young Jewish lady, Helen McIntosh, who later guided me through my early Christian discipleship.
It was appropriate too, therefore, that the church I visited stands on the edge of Stamford Hill, home to many Jewish people, some of whom came to hear my talk on Shavuot (Pentecost), a thoroughly Jewish feast which empowered the first disciples of Jesus to 'turn the world upside down' (Acts 17.6) with God's commandments written on their hearts and not just on tablets of stone (2 Corinthians 3.3).
Pentecost is still available to turn this tense and troubled community around, and I pray that my friends at the church will help to bring the resurrection life of Jesus to the streets of Tottenham and Haringey.
It would certainly be the perfect place to witness the reconciliation between Jew and Gentile the Apostle Paul talks about in his letter to the Ephesians (2.14).
In writing to the Romans, he says both groups are steeped in sin and, in quoting the Old Testament, writes: "There is no-one righteous…no-one who seeks God…their feet are swift to shed blood; ruin and misery mark their ways, and the way of peace they do not know. There is no fear of God before their eyes." (Romans 3.9-18)
A return of the fear of God that people felt at those Billy Graham meetings would bring new hope; I am told they used to arrive on train platforms singing hymns. So what is the remedy? How can such reverential fear be restored to communities that have forsaken God?
Seventy-five years ago a vicious enemy threatened our freedoms, but while our soldiers fought on the beaches of Normandy, much of the country fought on their knees as they responded to the King's call to prayer. We must turn to God once more.
Jesus, God's Son, lived a perfect life on earth and was unjustly crucified. He became a substitute for us – for we have all sinned – and by trusting in his sacrificial blood, we are raised to new life and hope (Rom 3.23f).
Just as 33-year-old Baris bled to death through the cruel hands of his assailant, so Jesus bled for us – and he was exactly the same age! In doing so, he became the ultimate Passover Lamb, fulfilling the picture of how the enslaved Jews were freed from captivity in Egypt by daubing a lamb's blood on the doorposts of their homes, as a result of which the angel of death 'passed over' them while striking the first-born of the host country who had stubbornly refused to let them go.
Whether you are a Jew or a Gentile, freedom from sin and darkness comes by marking your heart, figuratively speaking, with the blood of Jesus – which shows that you are placing all your trust for escaping God's judgment and inheriting new life in what Jesus has done for you.
It will surely open up the 'Red Sea' and lead you into the Promised Land of peace, purpose and prosperity. Not just for this life, but forever more.
As well as Pentecost, I also led a session on Job who, in spite of terrible trials, refused to relinquish his integrity and trust in God. One dear woman in the audience confirmed the reality of Job's experience in her own life. Tragically, she had lost three sons – all in their twenties – and yet, through her faith in Jesus, she had managed to maintain perfect peace through all her troubles!
The prophet Isaiah wrote: "Thou wilt keep him in perfect peace, whose mind is stayed on Thee: because he trusteth in Thee." (Isa 26.3 KJV)
1Now a shopping centre, accommodating the new religion