By Chris Eyte
Actress Marianne Gaston experienced a miracle healing after prayer from a fiery bishop from Pakistan back in 2007, as previously reported in HEART. Now read the story of that bishop, Rt Rev Yousaf Nadeem Bhinder, who planted 31 churches, saw many miracles – and had to flee his homeland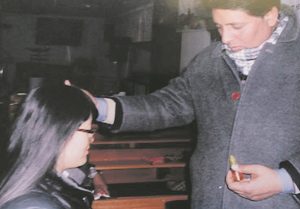 What a thought: a descendant of the Royal Family of Rajasthan (India) studying the Holy Bible "deeply" – and his decision to follow Jesus Christ leading to a mass movement of church planting across the troubled nation of Pakistan.
Yet that is how 'His Grace Churches International', fronted by 134 pastors and 31 churches, was started, with a vision to establish churches internationally.
Yousaf Bhinder was a student at a Pakistan government school in 1986. Some 840 pupils were Muslims at the time, with only ten youngsters belonging to the Christian faith. Yousaf, now 51 and known as the Rt Rev Dr Bishop Yousaf Nadeem Bhinder, recalls the intense pressure to convert to Islam at his school that particular year.
"Every day, and indeed all the time, Muslim teachers and students were asking me and the other Christians to accept Islam and become Muslims.
"So we started to study the Holy Bible and even Islam. So that we could withstand Muslims and could answer them that we Christians are 110 per cent better than any other religions."
Yousaf found the reality of Jesus 'with the inspiration of the Holy Spirit' when he studied the Word of God seriously during this time of spiritual reflection as a teenager.
"After accepting Jesus Christ as my personal Lord and Saviour, my life was totally changed and I devoted my life to serving Him."
Yousaf remembers an incident when he was in Year 10 at the school. A Muslim spiritual guide ('pir') would not allow anyone to sit near him on a bus and refused to pay for bus tickets.
Yousaf said: "I went and sat with that demon-possessed pir. After I sat next to him he asked: 'Who are you? And how dare you to sit with me?'
"I replied: 'I am human and I have flesh and bones, I am not a demon.'
"Again he said, 'What is your name and religion?'
I replied: 'Good question. Well, my name is Yousaf and I am a Christian by birth'. He became very angry and said he would use his demonic power to throw me out from the bus.
"All the passengers looked at us and started to listen to our conversation. I said to him: 'Let's ask your demons to push me out' and he started to pray in his mouth – everybody was looking at him while he was muttering.
" All the demons left his body after my prayer"
"But nothing happened and then I said to him: 'Now I will cast out your demon in the name of Lord Jesus Christ'.
"All the demons left his body after my prayer. He became totally silent and he said that everybody can sit with him. Glory to God: he was fully changed."
From a Catholic background, and born in a village in the Gujranwala District in Punjab, Yousaf's great grandfather had been a Sikh and he was born into a well-known and high caste Sikh family.
After school, Yousaf notched up a number of degrees: a BA in Islamic History and Journalism in 1999, a BTH (Bachelor of Theology) in 2000, a Master of Divinity in 2005, a Doctor of Ministry in 2006 and an ALT (technology qualification) in 2002.
"I am very thankful to God that I opened my eyes in a Christian family. During my college education I left Catholicism and accepted Lord Jesus Christ as my personal Lord and Saviour and got baptised by Singaporean missionaries in Karachi city in 1986."
Yousaf was baptised in the Holy Spirit on the same day as his water baptism.  He started doing street evangelism with the church and translated Christian literature into the Urdu language.
He also experienced prophetic visions of Jesus, resulting in his understanding that he had a calling and cites John 15:16: "You did not choose me but I chose you…"
He says: "I am weak and a sinner by birth, but through the grace of God in Jesus Christ I am saved and he has chosen me to pasture his sheep."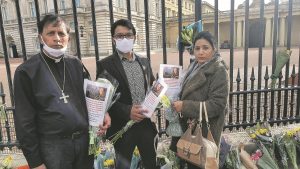 His family did not want him to become a pastor but a friend encouraged him: "My friend told me if you would obey God's Word, and become a pastor, then he will bless you abundantly in health and wealth and will use you for the glory of his name.
"With the calling to serve Lord Jesus Christ I started church mission work in 1997 with the name of 'His Grace Churches International' and His Grace Bible College. Now, His Grace Churches International is a well-known and fast-growing Church in Pakistan."
"The Lord Jesus Christ has healed many people: blind eyes were opened, barren wombs were healed"
The work progressed and he began mobile Bible college classes in different areas of Pakistan. Yousaf also started visiting different countries with a particular focus on helping those living in poverty and also established schools for persecuted Christian children in Pakistan.
"By my prayers the Lord Jesus Christ has healed many people: blind eyes were opened, barren wombs were healed and many other miracles. God has used me for the glory of his wonderful name.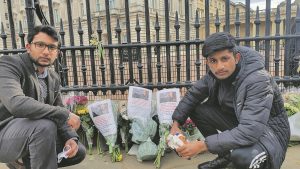 "I travelled abroad from Pakistan 112 times. By the grace of Almighty God our church ministry is well established, which has been a registered church by the Government of Pakistan for 18 years."
Yet, as Dr Yousaf says: "Pakistani Christians are always under attack."
In 2001, what he calls "strong" physical attacks started. Amazingly, they stuck it out for 11 years, but for the safety of his wife and five children fled to the UK in 2012.
After settling in Warrington, Dr Yousaf met several government ministers and is known as a campaigner for the persecuted Church.
His children have all excelled in their education and careers – one is a potential young professional cricketer.
Dr Yousaf  says that Pakistani Christians need prayer: "No doubt there are problems and discrimination with Christians in Pakistan. They have no equal rights and are struggling to get their basic rights. But thanks to God they are very strong and powerful in their faith and belief. They are not afraid of the mouth of a beast.
"They are living testimonies of Christ in Pakistan. They are light and salt in Pakistan. Nobody can snatch their belief and faith in Christ, even if they face death."
He added: "Nowadays Muslims are misusing blasphemy law section 295A, 295B and 295C against Christians in Pakistan. For instance, if someone is accused under this law then they and their families will be in grave danger and the consequences will be very difficult to handle because the extremism is reaching its peak in Pakistan."
The bishop highlighted the needs in particular of Christian girls and women: "They are being raped, kidnapped and forcibly converted to Islam. In such cases the Christian parents have no legal rights to appeal at Pakistan judiciary courts."
The bishop asked readers of HEART to pray for Christians in Pakistan: "Believers can pray for their uplifting."