HOW DID THE NEW CABINET VOTE ON KEY MORAL ISSUES?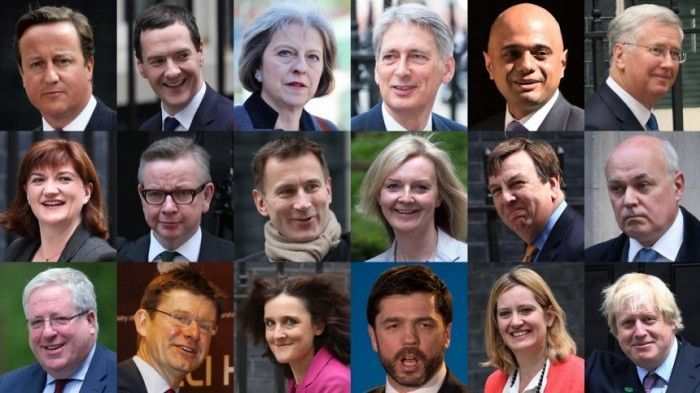 Here is a breakdown of how the new Cabinet Ministers have previously voted on key issues as MPs where appropriate.
We are grateful to the Christian Institute for their excellent work recording MPs voting on moral issues which formed the basis for this chart.
NAME OF CABINET MINISTER
For 3-parent babies (Feb 2015) : an amendment to the 2008 Human Fertilisation Embryology Act
Marriage (same sex couples) Act 2013
For a free speech amendment to the homophobic hatred offence in November 2009
For a free speech amendment to the homophobic hatred' offence in March 2009
Repeal of blasphemy offences in section 79 of the Criminal Justice and Immigration Act 2008
Voted for the Lords amendment to the Religious Hatred Bill on Jan 31 2006
Sexual Orientation Regulations (2007) which restrict religious liberty as part of the Equality Act 2006
David Cameron, Prime Minister
FOR
FOR
ABSTAINED OR ABSENT
FOR
FOR
FOR
FOR
George Osborne, First Secretary of State and Chancellor of the Exchequer
FOR
FOR
ABSTAINED OR ABSENT
FOR
FOR
FOR
FOR
Theresa May, Home Secretary
ABSTAINED OR ABSENT
FOR
ABSTAINED OR ABSENT
FOR
ABSTAINED OR ABSENT
FOR
ABSTAINED OR ABSENT
Philip Hammond, Foreign Secretary
ABSTAINED OR ABSENT
ABSTAINED OR ABSENT
ABSTAINED OR ABSENT
FOR
AGAINST
FOR
ABSTAINED OR ABSENT
Michael Fallon, Secretary of State for Defence
FOR
ABSTAINED OR ABSENT
ABSTAINED OR ABSENT
FOR
AGAINST
FOR
ABSTAINED OR ABSENT
Michael Gove, Lord Chancellor and Secretary of State for Justice
FOR
FOR
ABSTAINED OR ABSENT
ABSTAINED OR ABSENT
ABSTAINED OR ABSENT
FOR
FOR
Chris Grayling, Lord President of the Council and Leader of the Commons
AGAINST
FOR
ABSTAINED OR ABSENT
FOR
ABSTAINED OR ABSENT
FOR
FOR
Nicky Morgan, Secretary of State for Education and Minister for Women & Equalities
FOR
AGAINST
N/A
N/A
N/A
N/A
N/A
Mark Harper, Chief Whip (Parliamentary Sec to the Treasury)
FOR
FOR
FOR
FOR
ABSTAINED OR ABSENT
FOR
ABSTAINED OR ABSENT
Baroness Stowell, Leader of the House of Lords and Lord Privy Seal
N/A
N/A
N/A
N/A
N/A
N/A
N/A
Amber Rudd, Secretary of State for Energy and Climate Change
FOR
FOR
N/A
N/A
N/A
N/A
N/A
Priti Patel MP, Minister of State (Minister for Employment)
ABSTAINED OR ABSENT
AGAINST
N/A
N/A
N/A
N/A
N/A
Robert Halfon, Minister without Portfolio
FOR
AGAINST
N/A
N/A
N/
N/A
N/A
Sajid Javid, Secretary of State for Business, Innovation and Skills
FOR
FOR
N/A
N/A
N/A
N/A
N/A
John Whittingdale, Secretary of State for Culture, Media and Sport
FOR
AGAINST
FOR
FOR
FOR
FOR
AGAINST
Iain Duncan Smith, Secretary of State Work & Pensions
ABSTAINED OR ABSENT
FOR
ABSTAINED OR ABSENT
FOR
AGAINST
FOR
AGAINST
Patrick McLoughlin, Secretary of State for Transport
ABSTAINED OR ABSENT
FOR
FOR
FOR
AGAINST
FOR
FOR
Liz Truss, Secretary of State for Environment, Food & Rural Affairs
FOR
FOR
N/A
N/A
N/A
N/A
N/A
Anna Soubry, Minister of State (Minister for Small Business)
FOR
FOR
N/A
N/A
N/A
N/A
N/AA
Greg Clark, Secretary of State for Communities & Local Government
FOR
FOR
ABSTAINED OR ABSENT
ABSTAINED OR ABSENT
FOR
FOR
ABSTAINED OR ABSENT
Justine Greening, Secretary of State for International Development
FOR
FOR
FOR
FOR
FOR
FOR
ABSTAINED OR ABSENT
Theresa Villiers, Secretary of State for Northern Ireland
FOR
FOR
ABSTAINED OR ABSENT
FOR
ABSTAINED OR ABSENT
FOR
FOR
Jeremy Hunt, Secretary of State for Health
FOR
FOR
ABSTAINED OR ABSENT
ABSTAINED OR ABSENT
FOR
FOR
FOR
Stephen Crabb, Secretary of State for Wales
FOR
AGAINST
FOR
FOR
AGAINST
FOR
AGAINST
Greg Hands, Chief Secretary to the Treasury
FOR
FOR
FOR
FOR
FOR
FOR
AGAINST
Matt Hancock, Minister for Cabinet Office and Paymaster General
ABSTAINED OR ABSENT
FOR
N/A
N/A
N/A
N/A
N/A
David Mundell, Secretary of State for Scotland
ABSTAINED OR ABSENT
ABSTAINED OR ABSENT
ABSTAINED OR ABSENT
FOR
FOR
FOR
ABSTAINED OR ABSENT
Oliver Letwin, Chancellor of the Duchy of Lancaster
FOR
FOR
FOR
FOR
ABSTAINED OR ABSENT
FOR
FOR
Jeremy Wright,

Attorney General

AGAINST
AGAINST
FOR
FOR
ABSTAINED OR ABSENT
FOR
ABSTAINED OR ABSENT
Baroness Anelay, Minister of State at Foreign & Commonwealth Office
N/A
N/A
N/A
N/A
N/A
N/A
N/A