Two recent healings from Covid have taken place at one of HEART's newer supporting churches in the north of England.
This is what the pastor reported earlier this year:
One of our young men, aged 32 and on dialysis, contracted the Delta variant.
There have been previous cases of miraculous healing in his family. He was taken into hospital, but there was no treatment given, apparently because of medical complications and his serious condition.
There were also very few staff available that weekend and his body was failing in every area. His wife spoke to him several times, but when she phoned on the Monday morning, he was too weak even to speak.
We called a group together for immediate prayer at short notice at lunchtime. Less that two hours later, he called his wife to say he was sitting up in bed and eating. The medics observed this, put him in ICU, apparently on steroids, and then two days later he was home!
The second case was a young mum in hospital with Covid, struggling to breathe, not responding to treatment and deteriorating. This came to a head on Sunday morning, so we prayed in the church service and following this she had a speedy recovery. Praise the Lord!
---
VACCINE SIDE EFECTS: "ASK JESUS TO HEAL YOU"
HEART reader Susan Edgley had previously received miraculous healing from a persistent low-grade temperature after taking the flu jab.
So when her mother-in-law became unwell after having the Pfizer shot, Susan told her about the reputedly toxic contents of the vaccine. "She cried buckets and repented thoroughly. My husband and I prayed for her in the powerful name of Jesus, and she was healed straight away."
She adds: "The Lord is very willing to heal us of this evil, but we do need to repent. He is no respecter of persons. Look to Jesus in all humility, and ask him to heal you."
---
Prayer for healing from adverse reactions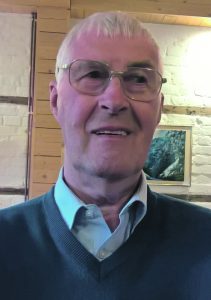 This prayer came to David Tidy, director of Prayer Warriors International, early one morning in May 2021. It has been on our website since last year, but we have recently been asked to print it to make it available for those who regret their medical decisions
Father, I am sorry not to have trusted you fully regarding my spirit, soul, body, and my future.

I am sorry that I have responded to the world's manipulations. I felt it right at the time but I have now come into further revelation knowing that it was not from you.

I am now aware that I have in my body something that is contrary to your created immune system given to me when born; for this I am truly sorry.

I now recommit my spirit, soul and body to you in Jesus' name.

In your name I now take authority over and cancel all negative effects from these jabs and loose myself from all future repercussions from them. I speak to my immune system to take back control of my spirit, soul and bodily protection as ordained by God.

I ask you Lord, if you would be generous in your unfailing grace and restore what has been stolen from me, that I may serve you fully with all that I am.

I declare that my spirit, body and soul will be healed and restored according to Psalm 91:5-11 in Jesus' name.

Amen.