POLITICIANS FROM ACROSS the political divide in the USA have united in calling for the killings of Christians and other minorities in Iraq and Syria to be recognised specifically as 'genocide'.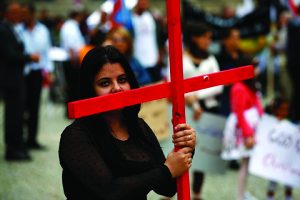 The bipartisan resolution on September 10 was presented by Jeff Fortenberry, Republican representative for Nebraska and Anna Eshoo, Democrat representative for California – both co-chairs of the Religious Minorities in the Middle East Caucus.
Mr Fortenberry said: "Christianity in the Middle East is shattered. The ancient faith tradition lies beaten, broken, and dying. Yet Christians in Iraq and Syria are hanging on in the face of Islamic State's barbarous onslaught. This is genocide.
"The international community must confront the scandalous silence about their plight. Christians, Yezidis, and other religious minorities have every right to remain in their ancestral homelands."
Chris Eyte