Peace prize backing for terrorist
Former South African Archbishop Desmond Tutu has joined an ongoing campaign to nominate a jailed Palestinian terrorist for the Nobel Peace Prize.
Marwan Barghouti, who is serving five life sentences for his role in planning suicide terror attacks in Israel, has already won the support of leading Belgian MPs and a delegation of mayors from French cities, and is widely seen as a prospective successor to PA president Mahmoud Abbas, which means he could be following in the footsteps of peace prize winner Yasser Arafat. (JNN)
Billion dollar fraud
Terrorist prisoners continue to receive salaries from the Palestinian Authority despite assurances the PA has given to Western donor countries.
Palestinian Media Watch has uncovered a major fraud through which the PA continues to reap more than a billion dollars in foreign aid annually by falsely claiming to have stopped these controversial payments. They say the PLO is now paying the prisoners whereas the true source has been found to be the PA Ministry of Finance. (Palestinian Media Watch)
Spain connects with Israel
A Spanish town has been twinned with a village in northern Israel as Spain continues to distance itself from its anti-Semitic past, particularly in respect of the Inquisition during which Jews were expelled, tortured or forced to convert to Catholicism.
Castrillo Matajudios, meaning Camp Kill Jews, last year changed its name to Castrillo Mota de Judios (Jews' Hill Camp) and is now officially linked with Kfar Vradim (Village of the Roses).
Meanwhile the Anusim (or Marranos) – Jews forced to become Christians – are being encouraged to acknowledge their Jewish heritage and settle in Israel's Negev region.
'One-state solution' call
A Messianic group advocating a 'one-state solution' to the Israeli-Palestinian conflict has opened an office in Washington. The Alliance for Israel Advocacy is already lobbying U.S. politicians on the wisdom of a biblical settlement of the issue and of the dangers of the BDS (Boycott, Divestment and Sanctions) movement. (Israel Today)
Israeli leads UN committee
Danny Danon has become the first Israeli representative ever chosen to lead a permanent committee of the United Nations. The Israel Ambassador to the UN has been elected to lead the body's Legal Committee, covering everything from enforcement of the Geneva Conventions to coordinating the global fight against terrorism. (Arutz-7)
Chants of 'burning Jews'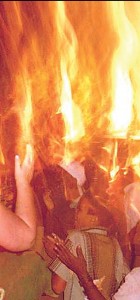 Anti-Semitic crimes are becoming so frequent in Holland that Dutch Jews are less inclined to report them. Chants about "burning Jews" have recently become associated with Amsterdam's Ajax football team, dubbed 'Jews' in view of the historic Jewish presence in the city, but now high school pupils in Schijndel, 70 miles away, have taken up the refrain at a graduation ceremony. Some 100,000 people – three-quarters of Dutch Jewry – were murdered in the Holocaust, the highest death rate in Nazi-occupied Western Europe. (Arutz-7)
Charles Gardner
A series of Charles Gardner's articles also appear in the Israel Q & A section of www.prophecytoday.uk
Charles Gardner is author of Israel the Chosen (Amazon) and Peace in Jerusalem, available from olivepresspublisher.com
JNN = Jerusalem News Network, compiled by Barry Segal