Brave the wilds of the Warwickshire countryside and you'll find Christians making fires and foraging for food as part of a spiritual warfare course.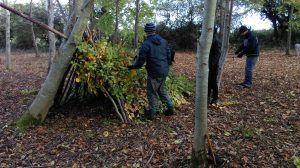 Bushcraft expert Mark Kirby, 43, regularly runs survival workshops that teach dauntless delegates about building shelters, hedgerow medicine, weapons, tracking, navigation and what he calls a "survivor mindset".
Mark founded his own bushcraft company, Survival 24:7, five years ago, after his previous job as an accountant left him feeling "unsatisfied".
He heads up the pastoral team and men's ministry at Red Hill Christian Centre, Stratford-upon-Avon, and firmly believes that spiritual and physical endurance skills go hand in hand: "Sessions deal with stripping back the comfortable and 'normal' of the everyday to expose the warrior God created in each of us. We need the physical skills, adaptable thinking, emotional awareness and spiritual wisdom and discernment to survive and fight."
The Bible training involves "a heavy concentration on the three key 'warrior' mindset areas of hope, joy and belief."