Crowd trouble over Dennis Rodman's support of tyrant
AMERICAN ex-basketball player Dennis Rodman's recent visit to North Korea has caused outrage in the West. The former sportsman showed support for the oppressive regime, yet apparently a lack of concern for those suffering under it.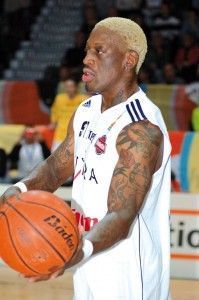 Though Rodman had previously pleaded for imprisoned American-Korean pastor Kenneth Bae, now he's appeared to be dismissive of the Christian's plight. When interviewed by American network CNN, he implied heavy criticism of "what Kenneth Bae did", later apologising for his words.
Surprising friendship
According to British writer Rob Chidley – who has documented the country's human rights abuses – Rodman's involvement there began in February 2013 when he led other high-profile American basketball players in an exhibition match against North Korea's national team.
"Rodman struck up a surprising friendship with Supreme Leader Kim Jong-un," said Rob. "Over the following months, he became more vocal about his friendship with the basketball-loving dictator, despite a continuation of the regime's human rights abuses, unparalleled in the world at this time."
Rob said there are currently at least 200,000 North Koreans in hard labour prison camps – and 400,000 have died in such places over recent years.
He co-wrote the book "Building Bridges: Is there Hope for North Korea?" with veteran campaigner David Alton. Together they show how North Korea's leadership can be held to account without punishing the people.
"Initially, Rodman's friend-ship with Kim Jong-un could reasonably be seen as a sign of hope," Rob pointed out. "The young dictator had not yet escalated his forefathers' brutal policies. Some commentators hoped he might be a reformer. And Rodman achieved what the entire US Government seemed unwilling to do – reach out to North Korea in a new way."
Through comments to the US media, Rodman encouraged President Obama to "pick up the phone" to the North Korean leader. Rodman appealed in a tweet to Kim Jong-un to release Kenneth Bae, sentenced to 14 years' hard labour for entering the country illegally to feed orphans and distribute Bibles.
On his most recent trip to North Korea for another basketball exhibition match, Rodman said he was sorry their countries were "not on good terms", but he said he was "honoured" to be "one of you" and a "friend for life".
Failing state
Rob Chidley wonders what could change Rodman's mind. "Perhaps he should speak to the families of South Korean soldiers still imprisoned in North Korea since the Korean War – over 60 years later," said Rob.
"He should hear about the unimaginable realities of life in North Korea by listening to any one of the thousands of North Korean escapees' testimonies collected by the Database Centre for North Korean Human Rights."
Rob also recommended Rodman could talk to UN and UK officials monitoring food security in the failing state, and consider why his "friend for life" prioritises a nuclear weapons programme over the lives of his starving population.
"If he had, perhaps he might not have crooned 'Happy birthday to you' at the exhibition match on Kim Jong-un's January 8 birthday," said Rob. Rodman continues to insist the basketball matches show the world that America and North Korea can "co-exist" with each other.
"This basic aspiration is right and can be realised," Rob explained, "but not on Pyongyang's terms, and certainly not without systematic change in the North Korean leadership and a radical new direction in international diplomacy with this pariah state."
Clive Price
Related: North Korea tops danger list for Christians for 12th year running