"Bullying and bigotry" by zealots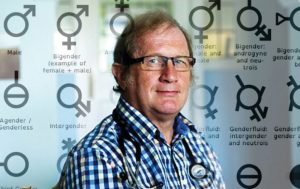 A government department has effectively sacked a Christian doctor who refused to give up his belief that gender is given at birth.
Dr David Mackereth from Dudley, West Midlands, lost work as a disability assessor for the Department for Work and Pensions. The 55 year old, who has been employed by the NHS for 26 years, claims he has been denied freedom of speech and discriminated against because of his Christian convictions.
Dr Mackereth, a Reformed Baptist, was told by his instructor on a training course to refer to patients by the sex the patient chooses. His contract was terminated when he refused to comply.
He told the Telegraph: "I'm not attacking the transgender movement. But I'm defending my right to freedom of speech, and freedom of belief.
"I don't believe I should be compelled to use a specific pronoun. I am not setting out to upset anyone. But, if upsetting someone can lead to doctors being sacked then, as a society we have to examine where we are going… we are not allowed to say what we believe… we are not allowed to think what we believe… we are not allowed to defend what we believe.
"I believe that gender is defined by biology and genetics. The Bible teaches us that God made humans male or female."
The Coalition for Marriage commented: "It says something for the bullying and bigotry of the transgender zealots in government that a man with a quarter of a century of public service behind him can be treated in such a disgraceful way."