Freedom won't be won without a furious fight
By Charles Gardner
 LONDON, March 29, 2019 – Watching the television news of teeming London crowds calling for a second referendum over Brexit sent my spirit plummeting towards despondency – until the Lord reminded me of the Exodus!
I saw that they were slaves in a foreign land who had become so moulded by subservience to godless ideologies imposed on them that they were blinded to the fact that they were in chains.
And this filled me with hope as I realised that the deliverance from Egypt of millions of Jews after 430 years of enslavement was no quick-fix arrangement – just like the tortuous negotiations involved in extricating ourselves from Europe (and we've only been tied up with them for 45 years!).
Moses was called by God to demand that Pharaoh let his people go, and what followed was a protracted battle of frightening proportions. And the Lord was well aware of this, for he said: "I know that the King of Egypt will not let you go unless a mighty hand compels him." (Exodus 3.19)
In the same way, a ferocious spiritual battle for the soul of our nation is being enacted before our eyes. Back then, it took a disastrous ten plagues for Pharaoh to act, and that is something of what we are experiencing now, certainly in the spiritual realm of a nation whose heart has become hardened to the gospel and the blessing it has brought on Britain over the centuries.
Plagues of blood, frogs, gnats, flies, the death of livestock, boils, hail and locusts were not enough to budge the king. The ninth plague – darkness – is perhaps where we are now in the UK with all the chaos, confusion and lack of clarity. But it's also a sign of hope as darkness eventually gives way to dawn, and it was the tenth plague that unlocked the door to freedom for the Israelites.
The death of the first-born proved a step too far for the Egyptians, but what brought death to unbelievers was a lifeline for those who trusted in the God of Israel.
The Jews were instructed to daub the lintels and doorframes of their houses with the blood of a sacrificed lamb, and the angel of death would 'pass over' all who carried out God's command. They were thus also able to pass through the Red Sea as on dry ground on their way towards the Promised Land.
The blood was the sign. Blood that had brought death to the Nile now brought life to all who trusted in God's provision of a spotless, perfect lamb prefiguring the coming of the Messiah, Jesus, who has taken away the sins of all who trust in him. (Exodus 12.13, John 1.29)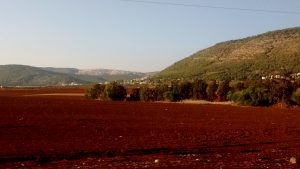 Perhaps for Britain too, the Lord is looking for a Moses figure (not necessarily the Prime Minister, but who knows?) to lead us out of Egypt. We have worshipped Europe's humanistic idols for too long. God has a destiny for Britain – in the past we have stood alone against tyranny and led the way in missionary zeal by taking the gospel of Christ to the four corners of the earth. We even played a significant role in the restoration of God's ancient people!
If we would only return to our first love for Jesus, and for the Judeo-Christian values which made our nation great, there is 'a land of milk and honey' within our grasp – of a people once again living at peace with each other, at ease with itself and devoted to the God of our fathers.
Yes, there will be those who will long for the 'leeks and onions' – the way things were. But inheriting a land of promise will not come without a fight. Even after finally giving in to Moses, Pharaoh changed his mind and chased the Israelites all the way to the sea.
A miracle was still needed – and it came when Moses lifted up his staff and the waves parted. This prefigures the resurrection of Christ, on whom we once trusted as a nation.
That is the way out of the present stalemate – not a second referendum, or a half-baked deal. I like the way American preacher John Hagee put it when referring to Christ's return on the TBN UK channel: "He's not coming to say, 'Let's make a deal'. He's coming to say, 'This is the deal!'"1
I also believe God is saying that at some stage we will be asked to 'leave quickly' (Ex 12.33) and that we should be ready to go at any moment (Ex 12.11), that we should not leave 'empty-handed' (Ex 3.21) and that, in some form, our eventual exit will have been the 'long way round' (Ex 13.17f). Or am I reading too much into these Scriptures? You decide.
Still on the subject of slavery, the late Selwyn Hughes points out that the abolition of the slave trade came about, not through the enslaved organising a revolt, but through the passion of a man set free by Christ to defy furious opposition over many decades in pursuit of his noble goal.2
For all that we betrayed Israel in many ways over the past century, we did pave the way for her national restoration. But God was only able to use us in this way because of the biblical revelation of his purposes for the Jews given to faithful evangelical Christians of the 18th and 19th centuries.
Tragically, Christ's first coming was met by a national rejection from his own people which led to their exile for nearly 2,000 years. Just as tragic is Britain's current national rejection of Christ.
But think on this. That first Passover led to a national revival for Israel as they all trusted in God's provision of a blood-soaked sacrifice, and prefigures a national revival still to come predicted by the Apostle Paul in his letter to the Romans when "all Israel will be saved". (Rom 11.26)
Could Britain also be blessed with national revival through trusting once more in the blood of Jesus for her redemption?
1TBN UK, March 24 2019
2Every Day With Jesus, March 24 2019, referring to William Wilberforce