Powers of hell cannot stop miracles
British evangelist Jonathan Conrathe saw around 100 people healed from blindness in a recent Gospel campaign in Argentina.
Conrathe's team was working with churches across the city of Catamarca, known in Argentina for being its occult centre. Over four days there, up to 100 people testified to receiving healing in one or both eyes, including healing from cataracts and similar conditions.
On arrival in Buenos Aires, news of the miracles had spread and eight warlocks turned up on the first night.
"By their own admission later, they were there to try and stop the miracles from happening!" says Conrathe. But God had warned him in advance: "In prayer that afternoon, the Holy Spirit said to me I should minister to the blind in the middle of the message and that he would tell me when.
"In the middle of the message, suddenly the Holy Spirit said, 'Now, do it now.'
"So we got everybody who had problems with their vision to stand up. At that moment about 15 blind people received their sight.
"The result was that six out of the eight warlocks realised that Jesus was greater and they couldn't stop what God was going. They gave their lives to Christ and left having been delivered, saved, baptised in the Spirit and speaking in tongues. Tremendous stuff!"
Jonathan Conrathe was speaking to an online meeting hosted by the Filling Station in June. He will be ministering at the Filling Station's November conference in Salisbury, advertised in this paper.
---
"Lifers" defy rail strike
Thousands rallied for the unborn in London this September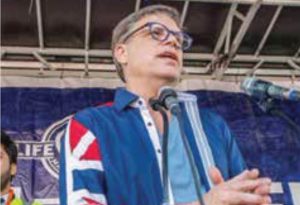 Despite a national rail strike, 7,000 pro-life supporters, including a large contingent of youth, filled Parliament Square for the ninth March for Life on Saturday 2 September.
Speakers included Lois McClatchieMiller from ADF (Alliance Defending Freedom) who told the crowd: "The apparently 'empowering' mantra of 'My body, my choice' has led to a deficit of male responsibility, allowing men to shrug and say, 'Your body, your choice, your problem'."
Co-director of the event, Isabel Vaughan-Spruce, shared her experience of being arrested for praying silently near an abortion centre. "The second time I was arrested, I was told my prayers were an offence."
Nearby abortion supporters tried to shout her down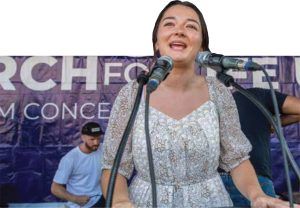 MPs Edward Leigh and Fiona Bruce showed their support, along with Christian leaders Rev Calvin Robinson from the Free Church of England and Regan King from Islington's Angel Church. Catholic bishops John Sherrington, Richard Moth and John Keenan were present as well as Monsignor Keith Newton of the Ordinariate.
The most moving message came from Ellie, a young woman who spoke of her deep regret at having three abortions. She had to raise her voice to be heard above nearby abortion supporters who tried to shout her down.
She stated that abortion didn't grant freedom, but "made us captives in one way or another."
---
New Bible School opens
Hebraic scriptural teaching underpins a pioneering new initiative
By Charles Gardner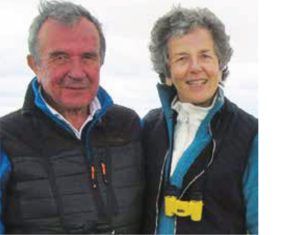 At a time when quoting Scripture has come to be seen as a virtual swear word, a new Bible college has opened in Rochester, Kent.
The Tishrei Bible School and the School of Biblical Family Life, led by Dr Clifford Denton and his wife Sally respectively, are housed in the refurbished Cedars Foundation, whose Christian school served the area for nearly 50 years before it closed in 2015 and where Sally taught for many years.
Tishrei, meaning 'New beginning', will seek to re-establish the Hebraic nature of biblical teaching focusing on the whole of life by learning to 'walk with God' in the power of the Holy Spirit.
"We recognise the terrible consequences of breaking away from our Judaic roots"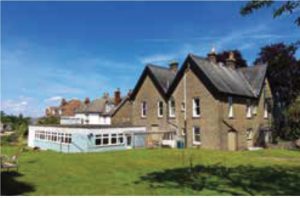 Clifford explains: "Tishrei will be a different sort of college, getting away from academic head knowledge which too easily becomes ritualistic. At the same time, there's a need to understand Israel – after all, the Bible is entirely built on the Jewish people and their history, and we recognise the terrible consequences of breaking away from our Judaic roots and establishing the false idea that the Christian Church has replaced Israel in God's affections, which has led to so much shocking antisemitism."