by Andrew Halloway
The leader of the UK's biggest Pentecostal church has urged black people to take an active role in public life such as serving in the police, government and judiciary.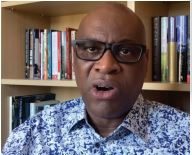 Pastor Agu Irukwu of the Redeemed Christian Church of God, which has about 800 UK congregations, released a Youtube video and statement in response to the killing of George Floyd in May in Minneapolis.
Irukwu, a lawyer and senior pastor at the UK's biggest RCCG church, Jesus House in north London, said he had watched events in the US "with a very heavy heart." Floyd's death had "once again brought to the fore the very deep faultlines that exist in American society around the issue of race".
He also spoke of the need to "name and address" the "inherent inequalities" and "institutional racism" in UK society.
He concluded: "The time has come to take very seriously the call to serve in the police, in local and central government, in politics, in the education system, and in the judiciary, just to name a few."