My testimony from Allah to Christ By Salma Said Ali
ISBN: 0781903905906. Available from roperpenberthy.co.uk, price £9.99
This autobiography provides an intriguing insight into the life of a devout Muslim woman from a very different culture who is able to chart her thoughts and beliefs as she progresses from Islam to faith in Jesus Christ.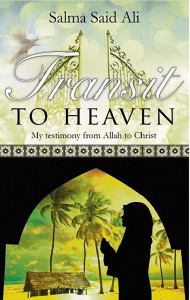 Salma moved from Zanzibar to Liverpool as a result of a second marriage. She studied hard and obtained teaching qualifications. Forced to escape to a women's refuge with her two little daughters, she moved to London as a single mother and worked as a teacher, remarried, suffered divorce again, bankruptcy and eviction.
It is through a student in one of her classes that Salma learns about Jesus. Through words of knowledge and prophecies which come to pass, Salma begins to trust him and receives a Bible. She and her student have many discussions about Jesus, and Salma finally decides to follow the Lord's prompting and be baptised.
This is a disaster for her relatives and on a visit home she bravely takes on her family, sitting before a row of senior men who try, but fail, to disprove the Bible and her faith.   Their chief concern is to save her from eternal damnation for leaving Islam. When she does not give up her faith she is cut off and disinherited. However, she believes she has received a promise from God for their salvation.
A major part of her journey concerns visions and dreams. One or two of these are unlike anything I have come across before; readers will have to make up their own minds about these.
The book reads as though Salma were speaking to you, which can make it a challenge to follow at times. Yet the fundamental change in her thinking as her faith develops from an Islamic world view to her biblically based faith with sound scriptural arguments is clearly described.
Her book will be a help to those wanting to understand individual faith in Islam, the place of women in these cultures and to those wanting to reach Muslims with the love of Jesus through the Gospel.
Carole Woodiwis