A PASTOR whose son was given the Legion of Honour by the French President for helping to tackle a terrorist on board a train has thanked God that he survived.
Anthony Sadler, 57, from Shiloh Baptist Church in Sacramento, California, USA, said the family were 'very, very thankful to God' that his son, also named Anthony, was not hurt or killed.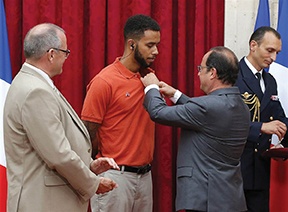 The younger Anthony, 23, was given the prestigious medal by President Francois Hollande along with his two friends Spencer Stone and Alek Skarlatos for helping to stop the gunman Ayoub El-Khazzani, from Morocco, after he injured four on board the train on August 21. British businessman Chris Norman also helped restrain the Islamist militant. Mr Norman, 62, who used his tie to restrain the potential terrorist, said that everyone should be prepared for these situations.
Sadler, Stone and Skarlatos reportedly met in middle school in California and planned on spending the summer sightseeing together. It was Sadler's first trip to Europe, and National Guardsman Skarlatos was on a month-long break after serving in Afghanistan. Stone is an Air Force serviceman.