by Dr Lisa Nolland
Horrified by the needs but encouraged by changed lives, Lisa Nolland reports on how Kenyans are resisting the pressure to adopt the West's LGBT agenda
Kenya is publicly standing against the West's financial pressure and propaganda, by refusing to adopt its agenda of sexual minority/'reproductive rights', but this stand has a cost.
Organisations such as the Clinton Foundation use their funds to further LGBT rights through financial sponsorships.
As many daily struggle for basics like food, clean water and shelter, re- fusing such offers is incredibly hard. Another aspect here is the lucrative nature of transactional gay sex: prostitutes can earn 5,000 Kenyan Shillings (around £38) per act. Given such temptation, it is a miracle any manage to get out.
Thankfully, other aid is being found but daunting challenges remain.
The three key African states targeted by big western players are South Africa (which has gone under), Nigeria (still holding its own), and Kenya. Activists realise Kenya's strategic importance for the continent and continue to target it.
Still Christian-ish
I spent a week there at the end of 2019 and was horrified by the needs, but encouraged by the positives.
In the main, churches are thriving, though not without their issues. I attended a Roman Catholic mass (with several hundred others) and heard a biblically based, applied sermon. I noted many wearing T shirts with the emblem, 'Come Oh Holy Spirit'.
Listening to Michael W Smith on the Kenyan equivalent of BBC One/Two was a highlight, as was browsing Christian books in the airport shop and watching Christian entertainers on television.
For the most part, Kenyans still understand and support heteronormativity and are pro-life, keeping their babies despite the daily struggle to survive. The various professionals I spoke with were appalled by the LGBT 'education' now being foisted on UK youngsters. They could not believe it.
Good news
There are some excellent developments, though, and God is at work.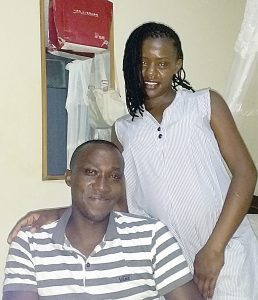 I was particularly impressed by Life Choices, a programme run by once gay Peter Mulinge. He has been able to help many with unwanted same-sex attraction, and that with virtually no outside support.
Peter does Christian and secular counselling, and meets physical needs of food, clothing, shelter and medical treatment (some of his lads have been diseased and/or needed to wear nappies after repeated homosexual activity). Activists have beaten him up twice and he has received death threats, but he continues in what he calls God's work with these 'least, last and lost'.
God is transforming these guys
And lives are being changed! I met lovely guys and heard for myself how God has transformed and is continuing to transform them. They are part of the future for Kenya! We know how important 'once gay' figures are in the West – activists are doing all they can to shut them down – and it is just the same there.
Dr Lisa Nolland convenes Anglican Mainstream's Marriage, Sex and Culture Group.
Photo: Lisa Nolland with four of Peter Mulinge's redeemed 'lads' who have found freedom but would love to own Bibles
Ways forward
Peter Mulinge is setting up an email prayer support list and hopes that people will help. His rescued lads would love Bibles, but Peter struggles to feed his family and often goes hungry himself. Could you pray? Could you give?
Mike Davidson (CEO of Core Issues Trust) has set up the Kenya Project; details are below.
Email: DrLisa1957@gmail.com
Donations to: Sort code 20-62-27
Account 13237664
Please mark your gift: "KENYA PROJECT"
Thank you for any help you can give, and please email me with any questions/concerns or phone the HEART office if you're not online and would like to speak to me on the phone.