Two pastors from Rwanda eagerly browse eVitabu's library of theological content using a solar-powered Android device
While Christians in the UK are familiar with accessing the Bible via their phones, using a Bible app is revolutionary in Africa.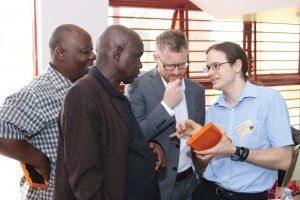 But thanks to a Christian charity based in Kent, African pastors will now have biblical teaching at their fingertips via a dedicated mobile app.  It is estimated that 90 per cent of pastors who oversee hundreds of churches across Africa may never have had a day's training.
Developed by a small group of volunteers from African Pastors Fellowship (APF), Canterbury, the 'eVitabu' app (Swahili for 'books') is installed on solar-powered Android devices. It contains audio Bibles in local languages, theology courses, video lectures by top Christian leaders and guides on topics like leadership and healthcare. New content can be downloaded almost anywhere using a mobile phone as a Wi-Fi hotspot.
Pastor Heavenlight Luoga, who oversees a network of 60 rural churches in north-west Tanzania, says: "eVitabu will help us address issues in the church and community such as theological error, farming and entrepreneurship. I have mobilised a core team of five teachers and we will meet each month to study together. My wife, Kesia, will also use eVitabu resources when training pastors' wives in Burundi."
APF launched the eVitabu app at a three-day conference in Uganda where the durable tablets were given to 57 pastors from eight East African countries including Kenya, Tanzania, South Sudan and Rwanda.
Dave Stedman, CEO of APF, said, "eVitabu has the potential to enable thousands of rural church leaders to access great quality training material, possibly for the very first time."