Appeal victory sees off a "tsunami" of similar cases
The recent legal victory of student social worker Felix Ngole is a "game changer" that could protect thousands of other Christians who have lived in fear of expressing their views in public.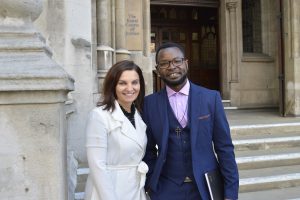 The watershed decision, which overturns a High Court ruling, has set a legal precedent that will be relied upon in "hundreds" of current and future cases.
A spokesman for the Christian Legal Centre said, "Those who express their Christian views on social media will now enjoy robust protections. We do hope the case is a game changer for Christians."
Prayer and a 40-day fast by Felix's church played a significant part in the ruling, according to his wife, Pepsy, who was helped by donations from well-wishers to feed their children.
Felix Ngole was expelled from his social work course at the University of Sheffield in 2016, after a fellow student reported Felix's private Facebook comments. With the help of the Christian Legal Centre, founded by Christian Concern, Felix took his legal battle all the way to the High Court, where the university implied that Felix was not allowed to express his Christian beliefs on same-sex marriage or homosexuality in any public forum, including church.
Having lost there, he then went to the Court of Appeal, which has now condemned the position of the university. During the case, it was suggested that even Mother Teresa would not be fit to practise social work in Britain today if she held biblical views.
Welcoming the judges' decision, Christian Concern announced, "This is the first Court of Appeal judgement regarding freedom of expression of biblical views which sets limits on the rights of professional regulators to limit free speech on social media. The ruling is an authoritative statement of the law, likely to be relied upon in hundreds of current and future cases."
Key people behind Felix Ngole's victory
Barrister Andrea Williams, co-founder of Christian Concern, has been fighting cases on behalf of Christians for over ten years.
She regularly appeals for prayer before court appearances, and in this case was helped by a church's 40-day season of fasting and praying.
In early 2016 Felix's wife Pepsy felt inspired to call their church to pray and fast for 40 days. She says, "After the 40 days, we had the assurance that the Lord had answered all our intercessions for all his people."
The couple also took courage from a message Pepsy believes she received from God in 2010, four years before Felix started his course: "In the middle of my (Bible) meditation I heard the Holy Spirit say that Felix would be used by God to change policies in this country."
The couple were incredulous, but committed the message to God in prayer.
Now they are seeing the proof of that divine message.
Pastor Ade Omooba, co-founder of Christian Concern, joined Felix in the initial meetings with the university. Ade offered caution and diplomacy, but the university wanted a blanket ban on Felix's views. This was a key reason for the judges' decision against the university.
Paul Diamond, the barrister who defended Felix at the Court of Appeal, had already warned judges in March: "I am urging on this court to start grappling with these questions, because if we do not grapple with it now we are going to be in a tsunami."
Christian Concern says: "Due to this win, we have now stepped back from the tsunami."