Pro-life peer Lord David Alton protested on the 50th anniversary of the Abortion Act with supporters, outside Parliament 
Abortion 'greatest shame of our nation'
Pro-life champion Lord Alton of Liverpool marked the 50th anniversary of the Abortion Act with a blistering speech outside Parliament on 27 October.
Monstrous
The Christian peer, who has campaigned against abortion over many years, called the 8,894,355 abortions carried out since 1967 "a monstrous figure".
Hundreds listened to Lord Alton, who deplored the "wilful killing of the smallest and most helpless member of the human family in the very place they should be safest – their mother's womb".
Disgrace
He continued: "What we mark today is nothing less than the greatest shame of our nation… a horror and disgrace on a massive scale.
"We are here to signify that we are not going away, that we are not going to remain quiet while injustice occurs…"
Pro-life organisations stood together in a minute's silence from 11:04am – the time Royal Assent for the Bill was given 50 years ago.
Song
Pro-life group Abort67 displayed images of aborted foetuses around Parliament Square and Whitehall.
Christian Concern has sponsored a new song by Melissa Hubert, '8 Million Roses', to highlight the tragedy of abortion. The song can be heard at melissamusic.co.uk/8-million-roses.
Warning
Meanwhile, Catholic bishops are warning that respect for doctors and nurses who oppose abortion is declining, and Cardinal Vincent Nichols and Archbishop Philip Tartaglia called for greater protection for human life.
The unborn: the facts
Dave Borlase of Intercessors for Britain told HEART
that since the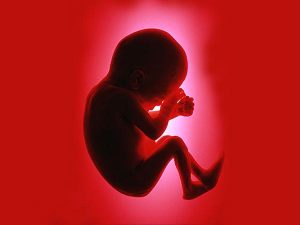 passing of the Abortion Act in 1967…
8.8 million babies were aborted just in England and Wales
Currently 500 English and Welsh babies are aborted every day
38% of abortions in 2016 were to women who had had one or more previous abortions
In 2016 complications for the mother after abortion were reported in 294 cases and there was one death.
There is a report on a recent prayer day over the 50th Abortion Act anniversary held by Intercessors for Britain in the 'If you weren't there' section of this website.