A senior US paediatrician says her profession has been "infiltrated" by transgender dogma which is resulting in "large scale child abuse".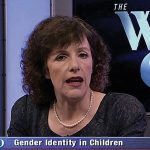 Michelle Cretella, president of the American College of Paediatricians, complains: "Transgender ideology is not just infecting our laws. It is intruding into the lives of the most innocent among us — children — and with the apparent growing support of the professional medical community."
Cretella warns that professionals who object to gender transition therapy for children find themselves "maligned and out of a job". Doctors once treated gender confusion as a mental illness, but now many claim transgenderism is "normal". This is similar to the way in which homosexuality travelled from psychiatric disorder to normalised lifestyle.