What happens when we die
Extract from a 5 star review by Dr Richard Brash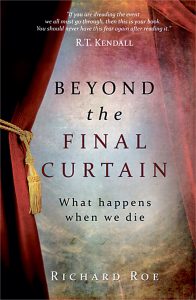 "Richard Roe's forthright and plain-speaking book puts the question back at the centre of his readers' consciousness, and his answer is faithful to the Bible and the message of Jesus Christ. It's a sombre message, with no punches pulled about our need of rescue from judgment after death, but it's also a joyful and life-giving message, grounded in the love of God in giving his Son Jesus to save everyone who believes. This book will be helpful for many types of people:
Those who are genuinely seeking answers for themselves
Those who have lost a loved one
Those who are perhaps not yet thinking about ultimate questions and need a 'wake-up call'
Convinced Christians who want to be encouraged in their faith
I found this book to be clear and faithful, and I can envisage many for whom it will be helpful in leading them to life in Christ."
(Dr Richard Brash is Assistant Professor of Theology, Christ Bible Seminary, Nagoya, Japan)
Published by Zaccmedia and available from: clcbookshops.com, eden.co.uk, keithjones.co.uk, amazon.co.uk, zaccmedia.com and others. ISBN 978-1-909824-55-3 RRP £7.99 A Kindle edition is also available from Amazon.