"Women's suffering would make suffragettes turn in their graves"
BARONESS CAROLINE COX HOPES TO BRING IN A NEW BILL TO PROTECT VULNERABLE WOMEN FROM SUFFERING IN THE NAME OF RELIGION.
She has introduced a private member's bill to protect vulnerable women from religiously-sanctioned gender discrimination.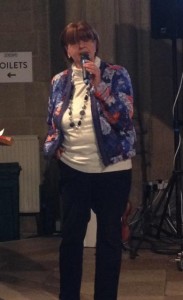 The Government is expected to announce whether it will support it on Friday 23 October. It is entitled the Arbitration and Mediation Services (Equality) Bill.
Speaking at St Peter's Church, Brighton, in early September, Baroness Cox said:
"We cannot continue with the present situation in which so many women are suffering in ways that would make the heroines of the suffragette movement turn in their graves."
Reporting from the event, St Peter's member Inger Woodcock said, "Baroness Cox is known as a true advocate for the persecuted Church worldwide.  Having been made a peer by Margaret Thatcher, she is able to go to places that others can't. She spoke about her work with the Humanitarian Aid Relief Trust (HART), which enabled her to go to places like North Vietnam, North Sudan and other dangerous places for Western citizens."
Baroness Cox challenged her audience when she spoke of "incredible acts of faith" from people in those countries who risk their lives to bring the Gospel.  "If we have a faith worth living for it is a faith worth dying for – we must not compromise the faith that we are living and dying for."
For more information about the bill, see http://equalandfree.org