After UK MPs voted to impose an extreme abortion law on Northern Ireland, pro-lifers came out on the streets of Belfast to protest.
Abortion is supposed to be a 'devolved issue' that the people of the province decide upon, but in July parliament cynically took advantage of the current suspension of the Northern Ireland Assembly at Stormont to renege on that agreement.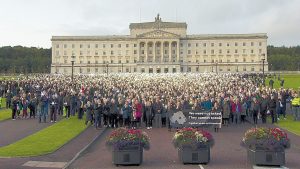 In response, on 6 September 20,000 protesters – around ten per cent of the entire population of Belfast – marched up to the Stormont buildings, where they stood in silence for six minutes. Their lips were sealed as a symbol of support for the unborn, who cannot speak for themselves.
On the following day, another 20,000 attended a rally in the centre of the capital. They urged the Assembly to reconvene to stop abortion being forced on the region.
Currently, abortion is illegal in Northern Ireland in most circumstances, but the outrageous new law will impose a more liberal regime than in the rest of the UK. The Westminster-imposed regulations will permit abortion up to 28 weeks for any reason, including abortion on the grounds of the sex of the baby, unless the Northern Ireland Executive is restored by 21 October. In England, Scotland and Wales, it is only possible to have an abortion up to 23 weeks and 6 days of pregnancy.
John Deighan, Deputy CEO of SPUC (Society for the Protection of Unborn Children), said: "We can only hope that the voices of so many united for life can bring politicians to their senses. Stormont needs to be reconvened as soon as possible and ensure that the shocking laws imposed from Westminster are consigned to the political dustbin."