A Christmas word-finder puzzle based on our most popular carol
"Joy to the world, the Lord is come!
Let earth receive her King;
Let every heart prepare him room,
And heaven and nature sing,
And heaven and nature sing,
And heaven, and heaven, and nature sing…"
Rev Isaac Watts (1674-1748) combined powerful truths from Scripture to write this carol almost 300 years ago in 1719, and it is consistently voted the most popular of our traditional Christmas songs. The stirring tune we sing was composed by George Frederick Handel (1685-1759).
As we share all the good cheer of this wonderful festive season with family and friends, let's also find new, meaningful ways to share the timeless and truly Good News of Christmas – God so loved the world that he gave his only Son – and in so doing, help others to prepare room in their hearts for the Saviour King!
Can you find 19 words from the full version of the carol hidden in this grid?  Answers may be horizontal, vertical or diagonal in either direction.  Wishing you a very happy and holy Christmas! KD
[one_third]
BLESSINGS
COME
EARTH
GLORIES
GRACE
HEART
HEAVEN
JOY
LORD
LOVE
MEN
NATIONS
NATURE
RECEIVE
SAVIOUR
SONGS
TRUTH
WONDERS
WORLD
[/one_third]
[two_third_last]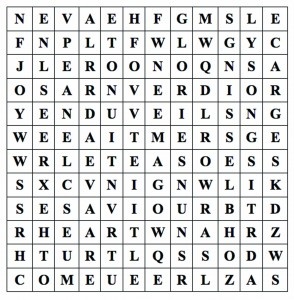 [/two_third_last]
October / November wordfinder solution