More than ever before, Christians need to equip their children and young people to defend their faith, so that they can withstand attempts to undermine it by evolutionary humanism.
Creation Resources Trust has been producing faith-building materials for churches and individuals since 1981. These include the children's paper Our World, and Original View — "the real science paper" — for teens and above. Both are published every four months.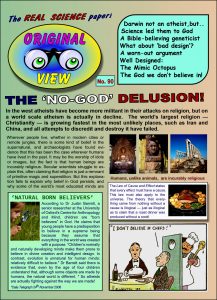 We are so keen to get this message out that there isn't even a subscription charge — just tell us how many you can use, and donate whatever you feel able to! In other words, we invite you and your church to be a "ministry partner" in sharing the truth of God as Creator!
The papers are undated, and back issues are also available.
Contact us for samples/details:
Creation Resources Trust (Dept. H), P O Box 3237, YEOVIL, BA22 7WD.
Tel. 01935 850569. Email: info@crt.org.uk www.crt.org.uk
Registered charity No. 1016666