Sense of smell healing brought musician to his senses
The big break for one of Yorkshire's most talented folk rock music groups came after… wait for it… a smell. To be specific, the whiff of a pint of beer. Why?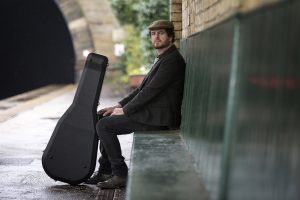 Because Paul Mirfin, leader of the North Yorkshire-based Paul Mirfin Band, was born without a sense of smell. Yet one day that all changed.
Paul, 45 and originally from Sheffield, now works as a train conductor in Harrogate by day and band leader by night. But after moving his family, including two children, to Knaresborough, North Yorkshire, in 2006, he went through a marriage breakdown that led to a downward spiral into drink.
"I lived alone from then on," he recalls. "For seven years I would go out most nights and get drunk. I played my guitar in pubs and led a life of looking for the next high, however I could get it."
"For seven years I would go out most nights and get drunk"
Paul had gone to church as a child and his mother kept praying for him during that seven-year period. His father had died around the same time he got married in 1998.
Paul found himself wanting to reconnect with a more stable life. In 2015 he joined a Christian dating website because he wanted to meet someone "who could at least have a faith in God, as I knew I was lost spiritually".
He met a woman called Hannah who was a strong Christian. She began fasting and praying for Paul for four months, although she didn't tell him until later. Then a miracle happened. Hannah asked Paul to smell a curry she was making and when he explained that he couldn't, she prayed for his healing.
"Two weeks later, while in a pub, I had my first whiff of a pint aged 40 and knew I'd been healed.
"I got on my knees and cried out to the Lord"
"I went home and got on my knees and cried out to the Lord and repented of all the sin and pain over the last seven years.
"I asked God to meet me and he did. From then on I would spend a lot of time in prayer, listening to the Holy Spirit speak to me. He told me to start writing songs for him.
"So I started writing music about my relationship with Christ."
Two weeks later, in 2016, Paul was contacted by the producers of BBC's Songs of Praise programme, who wanted to make a recording about his life story. Appearances soon followed on Christian TV and other channels, and the band, only formed a year earlier, took off.
With a background working on the railways and childhood years in Sheffield, Paul's melodies and lyrics are full of Northern grit and honesty. The band's sound brings a Yorkshire slant to American country porch music, leaning towards folk rock and blues and influenced by the likes of Johnny Cash and David Crowder.
Following Paul's miraculous healing and commitment to Jesus, he and Hannah have kept in touch via phone. "We remain good friends, but we felt all that happened was for a season in our lives."
"I tell everyone I know about Jesus"
Now Paul can't stop talking about what Jesus has done for him: "My life changed dramatically when I met the Lord. I tell everyone I know about him. My band plays in churches, prisons, bars, clubs and the conversation about Christ is constant.
"Many unbelievers ask me about Christ now, not just at gigs but in the street. And when I am having a coffee at a café, folks will come up to me to ask about my faith."
The Paul Mirfin Band have started an event in Harrogate called True North to share the reality of Jesus with non-Christians, following what they believe is a calling from God to celebrate creativity through music, dance, art and books.
Paul adds: "I know the Holy Spirit is guiding the ministry of music that I am in. He opens doors and closes them. He walks before us and all around and has taken me to Africa, California, Slovenia and all over the UK to share the Gospel."
This testimony first appeared in the evangelistic newspaper Good News. To order copies for outreach, phone 01159 233424.
For information about the band, see thepaulmirfinband.com