While Queen Esther saved her people from genocide many centuries ago, now her namesake, Housing Minister Esther McVey, has rescued London's new Holocaust Memorial and Learning Centre.
She has taken the decision on its location away from Westminster Council and into government hands as council officers were said to be "heading towards" rejecting an application for it to be located in Victoria Tower Gardens, overlooking Parliament.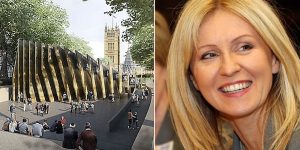 The revelation came via a Freedom of Information request by Jewish News in August. Mrs McVey made the decision shortly after Parliament dissolved ahead of December's General Election.
Christians United for Israel (CUFI) has promoted a petition in favour of the memorial being built in Victoria Tower Gardens, overlooking Parliament.
This is to counter a petition already signed by over 10,000 people fearful of spoiling the park. But CUFI reports the memorial would only occupy 7% of the park, with the education centre being underground.
Lord Pickles, who co-chairs the new memorial foundation, tweeted on Tuesday that he was "delighted that [McVey] has 'called in' the planning application," adding that both he and co-chair Ed Balls "agree… that the decision should be taken nationally".