Street preacher Mike Overd is unafraid to quote the Bible in public
Court bans 'abusive' Bible On UK streets
By Andrew Halloway
A PUBLIC PROSECUTOR HAS DECLARED THAT PREACHING FROM CERTAIN PARTS OF THE BIBLE IS "A CRIMINAL MATTER."
Protesters had been mocking and taunting street preachers Mike Overd, Michael Stockwell and Adrian Clark in Bristol for over an hour, before police intervened and, in effect, acted as censors on behalf of the crowd.
The preachers were arrested, with one thrown to the ground, and were told by the arresting officer: "People were getting angry. You were challenging homophobia. You were challenging Muslims." He accused them of "anti-social behaviour." The arrests took place in July 2016 but only came to trial on 28 February.
At Bristol Magistrates' Court Adrian Clark was released but Mike Overd and Michael Stockwell were convicted by the magistrate of disorderly conduct and using "threatening and abusive words… likely to cause alarm." The court ordered Mike and Michael to pay £2,016 each in costs and fines.
Public prosecutor Ian Jackson had argued that quoting certain verses of the Bible in today's society "must be considered to be abusive and is a criminal matter".
He told the court: "To say to someone that Jesus is the only God is not a matter of truth. To the extent that they are saying that the only way to God is through Jesus, that cannot be a truth."
That prompted the men's lawyer, Michael Phillips, to say: "This prosecution is nothing more than a modern-day heresy trial – dressed up under the Public Order Act."
Andrea Williams of the Christian Legal Centre, which is funding their defence, said an appeal had been filed against the conviction because "the job of police is not to stop free speech".
She told LifeSiteNews: "We'll take this all the way to the European Court if we have to. Today's ruling, in effect, states that the Bible is offensive and contains illegal speech which should not be shared in public."
Ironically, the conviction came on the same day that the Prime Minister said that people should be free "to speak about their faith, and that absolutely includes their faith in Christ."
Christian Legal Centre lawyer Roger Kiska said the case "sets an incredibly dangerous precedent" for freedom of speech, religion and democracy.
Mike Overd was also convicted by a District Judge in Taunton in 2015 and successfully appealed to the Crown Court. Again there is an automatic right of appeal to the Crown Court where the case will be heard by a circuit judge, who is usually more learned in the law than magistrates.
Spot the difference between this and the first Easter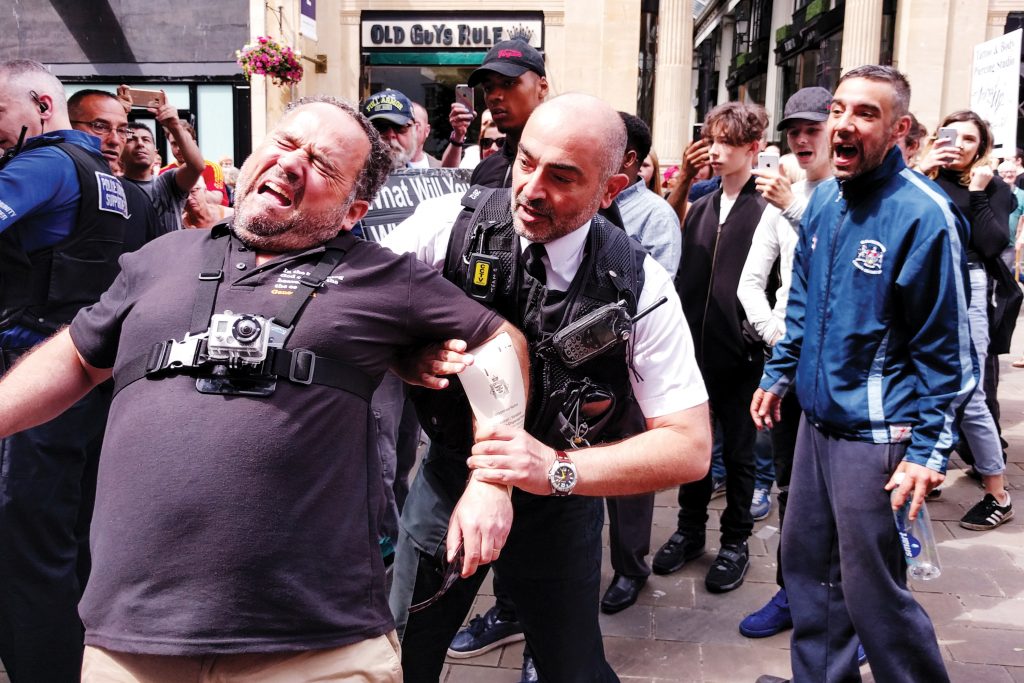 An arrest in front of a jeering crowd, a preacher wincing with pain as his arm is dragged behind his back, an officer apparently enjoying his job – does the arrest of a man of faith whose aim is to turn people from their sins remind us of anyone?
This eloquent shot was taken by photographer Simon Holliday who was returning to his office from lunch on 16 July 2016.
The most obvious visible difference between the arrest of Mike Overd and that of Jesus is the presence of grinning people holding up their phones to record the event.
Click here to read more: What does the arrest of these street preachers this signify?