AARON Ottley never thought his baby daughter would be healed of a life-changing condition, let alone that he'd be the one who triggered the miracle!
"I believed in God, but had no personal relationship with him. There was a hole in my life which had never been filled. This was made harder after a relationship breakup. I was in a bad place, with a gambling addiction and debts," says Aaron, 23, who is a barber.
Aaron's baby daughter, Maisie, had been born with a virus that left her with three brain tumours, two benign but one seriously malignant. "The virus could potentially have stopped normal development like sight, hearing, walking and talking."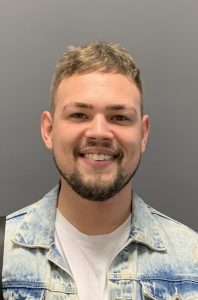 At Maisie's six-month check-up, her hearing had been below average and nobody knew how Maisie would develop.
So Aaron had a lot on his mind late in 2019, when he stepped outside his Horsham shop for a breath of air. Little did he know that he'd bump into Tim, a Christian friend who was passing. In fact, Tim later admitted he'd felt 'led' to take a different route from normal.
As they chatted, Tim felt a nudge to ask Aaron "Do you believe?" and "Do you have a relationship with God?"
Aaron wasn't really sure, so Tim offered to pray for him. Aaron noticed a difference at once. "I experienced God's dramatic power, which gave me a real sense of peace – almost relief."
Aaron started attending a local church, where he asked for prayer for Maisie. Then a miracle happened! At her 12-month check-up, Aaron and Maisie's mother were staggered to learn that not only was Maisie's hearing now average, but the malignant tumour had disappeared! Aaron says, "The doctor agreed wholeheartedly that this was a medical miracle."
Aaron, who also has a two-year-old son, is continuing to grow in his newfound faith: "I'm letting God take all my worries. Regular worship and Bible reading have allowed Jesus to 'invade' my life.
"We all have to step out in faith and pray for people and believe it will happen like it did to me. God is waiting for us all to just turn to him.
"The only reason I know how to love my daughter is because of how God loves me."
Aaron says Psalm 40:3 is particularly apt for him as Maisie grows up virus-free: "He put a new song in my mouth, a hymn of praise to our God".