How the Syrian civil war started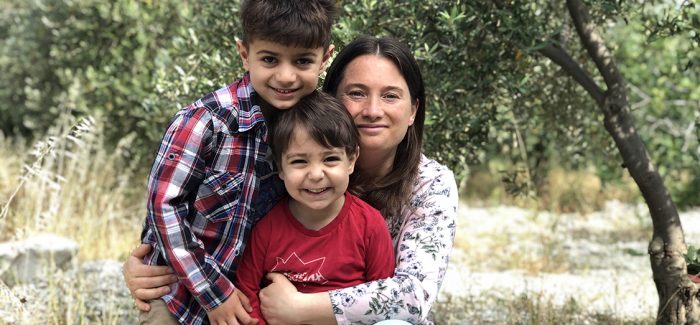 Smiling in a place of safety: these two young Syrian Christian boys live in a government-controlled area. With them is Samara Levy, founder of a non-political aid organisation, who collects supplies donated by churches to Christian and Muslim communities affected by the war.
Samara told HEART: "The boys' family has been displaced five times since the start of the conflict. They were targeted by Islamists who threatened to kidnap and then kill them. Many of their friends and relatives across Syria have been kidnapped and killed by Islamic extremists because they're Christians. They are some of the blessed ones who have escaped with their lives. Life continues to be a struggle for all of them with a very uncertain future, but they have no intention of leaving their country."
Read the experience of a Christian doctor
The war in Syria has been repeatedly portrayed as a civil war which started when the government responded violently to peaceful protests in March 2011.
However, Syrian Christians, along with much of the population, tell a different version of events.
Dr Issa*, a Christian doctor in Homs, described how Sunni Muslims in his community started becoming very hostile towards Christians at the end of 2010.
One day, while out walking with his wife, a group of a couple of hundred men with long beards and women wearing hijabs blocked their path, shouting at them for being Christians. Uncomfortable and afraid, they turned and went home.
Although they had never felt any differences between their different religious groups before, tensions grew and some of the Sunnis Dr Issa had sat and drunk tea with started to make jokes with uncomfortable undertones, such as asking how much he would pay as a ransom if they kidnapped him.
The Islamist group which became known as the Free Syrian Army stormed the government hospital and began executing Christian and Shia doctors
One night in March 2011, many of his Sunni Muslim neighbours opened their windows and spent the night shouting "Allahu Akbar" meaning 'God is the greatest' – used by jihadists as they detonate suicide bombs and fire missiles. A Sheikh had been televised calling all Sunnis to fast and chant "Allahu Akbar" to bring about a revolution to establish an Islamic state in Syria.
The next morning, he was shocked when many of the Sunni Muslim doctors came to the hospital in which he was a partner with hoarse voices from shouting all night.
What began as a three-night exercise continued into a full-scale uprising. Dr Issa watched groups of Sunnis gathering every Friday outside the mosques, shouting and calling for a revolution. Suddenly these groups possessed a lot of weapons and guns and unarmed policemen were being kidnapped and killed, with videos of these atrocities being posted on social media. So these were not 'peaceful protests' but were violent from the start.
Soon he received a phone call telling him he was no longer welcome at the hospital. A little later, he received another phone call telling him that Islamists had taken his home. They threatened to kill him and his family if he returned.
His neighbour's young son was murdered by Islamists who threatened to kill another of her children if she did not make a video accusing the Syrian government of killing her son.
Soon the Islamist group which became known as the Free Syrian Army stormed the government hospital and began executing Christian and Shia doctors. A good friend of Dr Issa, a thoracic surgeon, was beheaded. Other doctors were kidnapped or taken hostage and used as human shields while working in the hospital. The jihadist group used this hospital to store weapons and fire mortars and shells from it, but it was soon destroyed by the Syrian Army.
Friends and relatives watched what was happening in Homs in shock; no one could believe what they saw. But similar events began to take place in other areas and cities around Syria, with many jihadist groups supported from outside Syria (many using different names including Al Nusra, the Syrian branch of Al Qaeda, although it officially split from Al Qaeda in 2016).
Many people who had called for a revolution in the beginning changed their minds. They saw the difference between the lives they had lived before and the bloodshed, deception and terror of the 'revolutionary' groups. But it was too late – nothing could bring back what had been lost.
*Name changed to protect identity