70 years young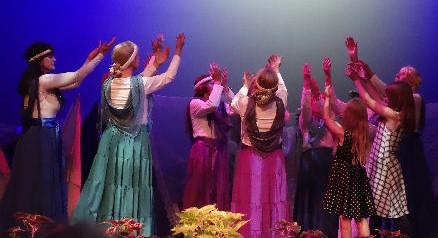 Davidic dancing in Dorset! HEART reader Susan Hill provided this photo from a "poignant yet uplifting" Night to Celebrate Israel organised by local members of the Moriah Fellowship. Susan writes: "In a touching gesture of unity, ladies from both communities joined hands and lit remembrance candles (seven for Israel and one for the United Kingdom) while a rabbi prayed"
In April, Israelis, patriotic Jews and those Christians who recognise that the Jewish state is the fulfilment of prophecy will celebrate the 70th anniversary of the establishment of the Jewish state, as marked by the Hebrew calendar.
Israel's Independence Day will begin with a torch-lighting ceremony on the evening of Wednesday, 18 April.
Events over the three days will include: 'Israel and the world sing together', in which Israelis and Diaspora Jews will sing simultaneously; a fireworks show; a '70 km party' that will rave across the country from Tiberias to Eilat; and a 'Parade of Lights' planned for Thursday night, illustrating Israel's success and innovation.